An influx of feral pigeons is causing a problem in one of Christchurch's most popular heritage sites.
Riccarton House and Bush manager Rob Dally said thepigeons have become an extreme pest in the past few months, spreading disease and threatening other native species.
Read More
Lately, you've noticed some really big birds swarming around your property. One look at these bad boys and you know you're in for some serious bird droppings, noise, debris and perhaps even an attack or two on your dog or cat. You whip out your BB gun, take a few down and they scatter. But the next day they're back with a vengeance, as if to pay you back for "taking out" a few of their own. They've also dropped a load or two on your car, boat and BBQ. After spending considerable time, soap, disinfectant and some major elbow grease in removing the acidic droppings, you realize short-term measures simply won't do. Time to get some serious non-lethal bird control—time for Stainless Steel Bird Spikes.
Read More
A former chef at the Villa Victor in Syosset who claimed he was attacked by a goose sued the restaurant for $1 million. Richard Braue insisted that he was standing by a pond on the restaurant's property when he was charged by a Canada goose. In a fruitless attempt to stay clear of the attacking goose, Braue fell and broke his back.
In Jacksonville, Florida, a goose created somewhat of a ruckus outside an office building on Salisbury Road. Having built its nest near the perimeter of the building, the goose attacked passersby. Some say the bird is just protecting its nest. But police recently reported that the goose actually bit a woman's ear.
Read More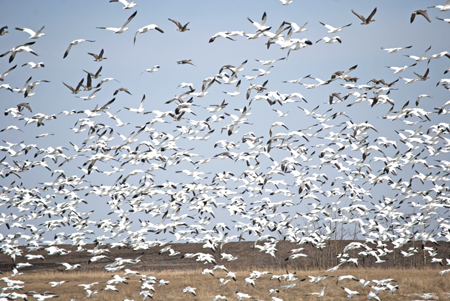 Recently, the Peach Drive neighborhood of New Jersey saw as many as 60 small black birds fall from the sky onto the street. Many birds attempted to rise and fly but just fell to earth again. Some birds simply dropped dead while eating at bird feeders.
This problem could have been avoided had Ingraldi Farms used bird deterrent products that are safe, humane and effective.
Read More
Posted By Fran Prisco
Bird strikes at airports are not uncommon and can end in tragedy. The Telegraph recently reported a plane crash in Napal that took the lives of 19 people when a vulture flew into one of the engines as the plane was taking off. Tragedies like these underscore the importance of effective bird control. Civil Aviation Authority officials noted that the pilot was forced to make an emergency landing after the plane's front engine had been hit by a bird and ceased to function. After trying to start a second engine, the damaged engine burst into flames. When the pilot attempted to land in the nearby Monahara River (to snuff out the flames), the plane crashed into a soccer field on the riverbank and was engulfed in thick, black flames.
Read More
Posted By Fran Prisco